Democratic presidential hopeful Hillary Clinton announced a $350 billion plan Monday to make college more affordable, calling for a "new college compact" designed to reduce the growing burden of student debt.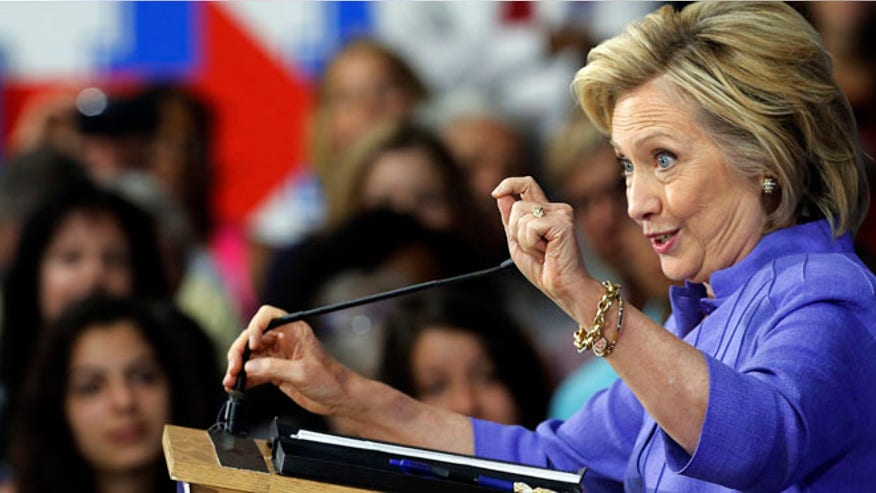 However, the plan faces a difficult sell to both liberal Democrats and Republicans, possibly not going far enough for the Democrats' liberal wing, while turning off Republicans with a high price tag and increased federal intervention.
Clinton announced the plan at a town hall meeting at Exeter High School in New Hampshire, telling gathered supporters: "It's ambitious but we should be ambitious."
The campaign accompanied the announcement with a campaign video that featured a number of students struggling with student debt telling their stories.
"I want every parent to know his or her child can get a college degree," Clinton said. "That's the country I want to help build."
The plan aims to ensure that students can attend a 4-year public college without taking out loans, as well as making community college tuition-free, while also pushing states to reinvest in higher education and pushing schools to reduce costs and raise graduation rates.
The plan's cornerstone is a $200 billion federal incentive system that would encourage states to expand spending in higher education and cut student costs. States that guarantee "no-loan" tuition at four-year public schools and free community college tuition would be eligible for federal money.
Military veterans, lower-income students and those who complete a national service program, like AmeriCorps, would go to school for free, although others would still incur costs for their schooling and living expenses at four-year public universities.
"For many students, it would translate into debt-free tuition," Carmel Martin, executive vice president for policy at the Center for American Progress, who advised Clinton on the plan, told The Associated Press. "It will depend on the student circumstances and the institution they are going to."
Those now repaying loans would be able to refinance their outstanding debt at lower rates, a change the Clinton campaign claims will save an average of $2,000 for 25 million borrowers over the life of a loan. Clinton's plan would also expand income-based repayment programs and allow every student borrower to enroll in a plan capping their payments at 10 percent of their income and would forgive remaining debt after 20 years.
"We will make sure that debt won't hold anyone back. For millions of Americans who have debt my plan will give them the chance to refinance at lower interest rates," Clinton said. "If you can refinance your car loan, you should be able to refinance your student loans."
Clinton's campaign said the plan would be paid for by capping itemized tax deductions for wealthy families at 28 percent.
Although Clinton's plan may be an effort to satisfy a key demand of the Democrats' liberal wing, the plan doesn't go as far as others seeking the 2016 nomination. Fellow 2016 hopeful Sen. Bernie Sanders, I-Vt., has called for the elimination of tuition and fees entirely for public universities, funded by taxing hedge funds, investment houses and other Wall Street firms. Many party activists and left-wing politicians have made "debt free college" for all a litmus test for the primaries, with Clinton's plan falling just short of that test.
Minutes before Clinton's speech, Sanders tweeted his call for the U.S. to "revolutionize" its higher education system and for free tuition at public colleges and universities.